A Comparison of Fertilizer Regimes in Commercial Cannabis sativa Production:

A Validation Study of the House and Garden Line of Dry and Liquid Nutrients
---
Dr. Robert Flannery
Dr. Robb Farms, Desert Hot Springs , CA
Cannabis cultivation, like any other form of agriculture, requires growers to keep a keen eye on the nutrition of their crops. Due to the legal landscape of Cannabis cultivation, research efforts into the behavior and needs of cannabis as a crop have been curtailed until recently. Traditionally, cannabis cultivators did not consult with researchers or botanists as the science was either unavailable or threadbare when provided.
The underground nature of cannabis cultivation has woven the practice into potentially inefficient and sometimes contradictory territory to obtain the best product possible. Only recently has the changing legal landscape enabled extensive academic study into the crop and its nutritional needs and behaviors.
27 randomly selected clones of Cannabis sativa 'Soap' were chosen for the study
Temperature, Humidity, Light, and Water were monitored for consistency
Nutrients (Control, H&G Liquid, and H&G Dry) were held as the only variable
Grow: 18hr light, 6hr Dark. Bloom: 12hr light, 12hr dark
All plants harvested after 63 days of flower
Plants were cut and weighed at several points, including wet weight, dry pre-cure weight, post cure weight, and final product weights
Final product weights recorded as trim, smalls, and flower
39%
increase in bud site
accumulation during
the growing phase.

32%
more final flower
by weight.
MORE
flower production
on identically-sized plants.
A significant difference was found between the two nutrient regimens. Plants receiving the H&G nutrient regimen were found to accumulate 39% more bud sites than the control group.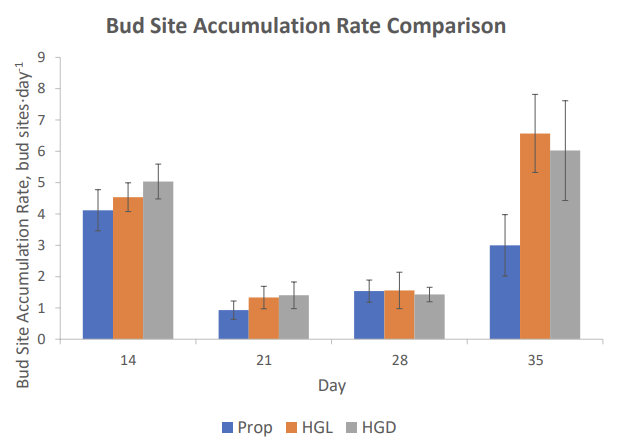 Differences in plant heights and growth rate were not found to be statistically significant. Indicating that the plants in the H&G groups formed more bud sites at a similar rate of growth and size.

After drying, curing, and trimming, the recorded final weights were compared. Plant Components were broken down into trim, smalls, and final flower. the plants in the H&G group were found to have a final flower mass 32% higher than the control group, with similar biomass weights. 
The H&G groups of trial specimens exhibited a 39% increase in bud site accumulation during the growing phase when compared to the control.
The H&G groups produced 32% more final flower by weight than the control group.
The difference in yield is rather significant, being almost a full third more finished product by weight when compared to the control group. It is believed that the accelerated accumulation of bud sites that was observed in the H&G group during the growing phase lead directly to the increased yield of the final crop. Interestingly, the discarded biomass proportions were similar across all 3 groups. This indicates that the plants using the H&G regimen of nutrients and additives had produced more flowers on an identically sized plant. 
---
American Farm Bureau Federation, 2021. Too Many to Count: Factors Driving Fertilizer Prices Higher and Higher, s.l.: USDA/AMS, Illinois Department of Agriculture.
A. N., 2020. Controlled Environment Agriculture Market to Surpass USD 142 Billion by 2024, Fostered by Growing Food Demand and Practices of Indoor Farming. Available at: https://apnews.com/article/technology-middle-east-business-environmentagriculture-e5754be76f2c4a24fde35e664c36e49b
Benchmarks, C., 2023. U.S. Cannabis Spot Price Index. [Online] Available at: https://www.cannabisbenchmarks.com/reports/u-s-cannabis-spot-index-march17-2023/
Gabay, M., 2013. The federal controlled substances act: schedules and pharmacy registration. Hospital Pharmacy, 48(6), pp. 473-4.
Grand View Research, 2023. U.S. Cannabis Market Size, Share & Trends Analysis Report By End-use (Medical, Recreational, Industrial), By Source (Marijuana, Hemp), By Derivative (CBD, THC), And Segment Forecasts, 2023 – 2030, s.l.: s.n.
Growth Market Reports, 2021. Horticulture Market – Global Industry Analysis, Growth, Share, Size, Trends, and Forecast, s.l.: s.n.
World Bank, 2023. Commodity Markets Review, Washington DC: Prospects Group.